Above: The Quicken Loans Arena, site of the 2009 U.S. Figure Skating Championships. The same arena hosted the 2000 Nationals as well.
When the ladies take the ice for their short program at the 2009 U.S. Figure Skating Championships in Cleveland, Ohio, there will be no Michelle Kwan. There will also be no Sasha Cohen. The only skater in the field that has ever won a senior world medal of any color is 2006 World Champion Kimmie Meissner, who has yet to finish higher than eighth this season. So one can just conclude that the U.S. ladies are doomed, there will be no U.S. flags being raised at the medal ceremonies of the upcoming World Championships and next year's Olympic Games, and thus there is absolutely no reasoning behind watching the ladies event at this year's Nationals, right?
Wrong; quite the opposite actually. The ladies field that will take to the ice for their short program on January 22nd, 2009, will be one of the deepest that a U.S. national championship has ever hosted. While there may not be a clear star, each and every one of the U.S. ladies has their own story, background, and artistry, and the ladies that take to the ice in Cleveland have a burning desire to be nominated to the world championship team, which only has two spots this year. With there being no finalists at the Grand Prix this season, and considering that all of the major contenders are age-eligible to go to Worlds, everyone will (more or less) enter Nationals with a clean slate, and will have to rise above the pressure of this do-or-die competition to be rewarded for their hard work.
I will feature 14 skaters competing at Nationals and analyze their potential placement at Nationals, their chances for the world team, junior world team, four continents team, and potential for Grand Prix assignments next year.
Becky Bereswill
Alissa Czisny
Rachael Flatt
Joelle Forte
Alexe Gilles
Katrina Hacker
Emily Hughes


Beatrisa Liang
Angela Maxwell
Kimmie Meissner
Kristine Musademba
Mirai Nagasu
Ashley Wagner
Caroline Zhang

Red indicates commentary of skater is featured in part 1 of post
Blue indicates skater commentary of skater is featured in part 2 of post


Becky Bereswill


Noteworthy Results: 2008 Junior Grand Prix Final Champion, 2008 JGP Madrid-2nd place, 2008 JGP Courchevel-2nd place, 2008 U.S. Nationals-10th place
Pros: The recent winner of the Junior Grand Prix Final, Bereswill is a very polished skater with good extension in her spins and spirals. Bereswill has four different triple jumps (lutz, flip, loop, toe) in her arsenal and doesn't usually receive wrong-edge deductions for either her flip or lutz. At the Junior Grand Prix Final Bereswill did not get downgraded on any of her jumps and won the competition despite singling her loop in the long and doing the same with her lutz in the short.
Cons: Bereswill has relatively poor posture and very little height and distance on her jumps. An absence of a triple salchow will not help Bereswill technically, nor will her lower PCS marks help her out artistically(Becky received only a 46.16 in the long program at Junior Grand Prix Final). Bereswill has very little experience competing at the senior level; the only time she has done so was at the 2008 U.S. Figure Skating Championships where she finished a respectable 10th.
Outlook: While Bereswill is hardly in contention for making the world team, her recent victory at the Junior Grand Prix Final should give her an added boost of confidence and possibly more attention from the judges, as she beat some other up-and-coming U.S. skaters in South Korea including Alexe Gilles, Angela Maxwell, and Kristine Musademba. A good finish here could prompt her to compete in a grand prix assignment next season, which could pave the way for success beyond 2010 (as she is unlikely to be contending for an Olympic berth) if she chooses to stick around.
Alissa Czisny


Noteworthy Results: 2008 Cup of Russia-4th, 2008 Skate Canada-3rd, 2008 U.S. Figure Skating Championships-9th, 2007 World Championships-15th, 2007 U.S. Figure Skating Championships-3rd, 2005 Grand Prix Final-6th, 2005 Skate Canada Champion
Pros: Arguably the most polished ladies skater that the U.S. currently has, the 21-year-old Czisny is now a veteran of the national championship, competing on the senior level for the 7th consecutive year. Known for her expression, extension, and immaculate spinning technique, Czisny won the free skate at the 2007 Nationals and is capable of scoring highly if she skates cleanly. Czisny has had a good season thus far, winning bronze at Skate Canada, placing 4th at Cup of Russia, and winning the Nebelhorn Trophy over Laura Lepisto and Akiko Suzuki.
Cons: Czisny is the definition of inconsistency; even her own inconsistency is inconsistent. Although she skated very well at Skate Canada, Alissa once again succumbed to nerves at Cup of Russia, where she fell a total of three times throughout the competition. A similar scenario occurred when Alissa had the skate of her life at the 2007 Nationals, and went on to regress at Four Continents and completely bomb at Worlds. Czisny has not skated a clean short program in eternity and her clean free skates come infrequently. Czisny is plagued by downgrades as well, especially on her lutz and her flip. Essentially, every single one of Czisny's problems lie in her jumps.
Outlook: Czisny is a great example of a "what if" skater. What if she were to pull it all together and skate cleanly; what if she were to stop being a tentative headcase and start becoming a determined, confident competitor. Czisny's average PCS marks in the long programs from both of her Grand Prixs (52.24) is the 2nd highest average PCS produced this season from any of the senior U.S. ladies, but those PCS marks aren't going to get Alissa anywhere if her triple jumps aren't ready to be landed under pressure. An advantage Czisny has over some of her competitors is that she realistically doesn't need others mistakes to get her on the podium. She has all of the ingredients for big marks, so Czisny getting on the world team (she would likely do so with a top 2 finish) is her opportunity to take. USFSA could be put in an undesirable situation if Czisny wins the national title (thus guaranteeing her spot to L.A., unlike finishing 2nd) and then subsequently goes to Worlds with the newfound pressure of being national champion and bombs. Such a scenario would only allow two U.S. skaters to compete in next year's Olympics.
Rachael Flatt


Noteworthy Results: 2008 Cup of Russia-2nd, 2008 Skate America-4th, 2008 Junior World Champion, 2008 U.S. Figure Skating Championships-2nd, 2007 Junior Grand Prix Final-2nd, 2007 U.S. Figure Skating Championships-5th
Pros: Minus the axel, Flatt has a full arsenal of triple jumps, including triple-triple combinations that are planned for both her short and long. Flatt's consistency is undoubtedly her most prized weapon, evidenced by the fact that she did not fall or pop a jump (with the exception of a single axel during the free program at Skate America) throughout any of her 2008 competition skates. Flatt usually rotates her triple jumps and is commended for her good musicality and difficult jumping passes after the half-way point of the program that earn additional bonus marks.
Cons: Flatt's "flat" skating is evident by the PCS marks she has received this season, an example being that she only received a 49.28 (avg: 6.16) at Cup of Russia, where she skated a clean program with six triple jumps. In comparison, Carolina Kostner received a higher free skate mark at that competition despite having more flaws, which means that Rachael has no room for error to keep up with the big girls. Flatt's hunched posture, lack of speed, and unremarkable spinning ability leave her with no choice but to land her triple jumps to receive decent marks. Rachael's triple flip+triple loop, an element she is debuting this season, has only been attempted once thus far, which resulted in the back end of the combination getting downgraded. It is also worth noting that Flatt has been receiving "!"s for her lutzes, indicating a slight change of edge prior to the takeoff of the jump.
Outlook: While Flatt's component scores may not be desirable, her consistency alone is worthy of a ticket to her first World Championships. Some felt Rachael should have won the title last year, which may have proved to be a blessing in disguise as she didn't have as much pressure on her when becoming a senior. But make no mistake, Flatt is the favorite to win her first national title in Cleveland, and maybe the only skater with a track record that will allow her to finish outside the top two and still make the world team. If Flatt maintains her consistency just likes she maintains her 4.0 GPA in school, she should be on to bigger and better things when these Nationals have concluded.
Joelle Forte
Noteworthy Results: 2008 Eastern Sectionals Champion, 2008 North Atlantic Regionals Champion
Pros: Joelle is a very strong skater technically, capable of consistently landing six triple jumps in her long program. Forte's forte is her great jumping technique, which is obvious when looking at her protocols from both the North Atlantic Regionals and Eastern Sectionals this year, where she didn't get a single downgrade or wrong-edge deduction. Forte consistently gets level 3s and 4s for her spins, footwork, and spiral sequences. Forte received the two highest total scores throughout the entire regional/sectional process this season for the ladies, a 150.92 at Eastern Sectionals and a 147.48 at North Atlantic Regionals.
Cons: Forte lags behind the other U.S. ladies significantly when it comes to artistry, flexibility, musicality, speed, and transitions. Her PCS marks reflect that, scoring 39.80 (avg: 4.975) at Eastern Sectionals this year with a clean program (her technical marks were a whooping 19.51 points higher than her artistic marks at that particular competition). Joelle has extremely little experience out on the big stage, with her only trip to nationals in her entire career taking place in 2000 when she was at the novice level. Even though jumps are Forte's strength, she doesn't have a triple flip in her repertoire and repeats one of the easier jumps, a triple salchow, in her long program.
Outlook: Forte's skating is ruled by its jumps, with all of the other components taking a back seat. Don't expect Joelle's PCS marks to be at all competitive at Nationals, even if she is to skate a clean program. Forte would likely be thrilled with a top 10 finish, and can do so if she maintains her excellent consistency. A good finish here could propel her for bigger and better things if she chooses to remain on the scene beyond 2010, as her prospects for a world team in 2009 and Olympic team in 2010 are bleak.
Alexe Gilles
Noteworthy Results: 2008 Junior Grand Prix Final-3rd, 2008 JGP Cape Town Champion, 2008 JGP Mexico City-2nd, 2008 U.S. Figure Skating Championships Champion (junior)
Pros: Winner of the U.S. National title on the junior level last year and the bronze medal at the recent Junior Grand Prix Final, Alexe Gilles is a relative newcomer with elegance and a complete package of triple jumps minus the axel. Her current seasons best for her short program (54.24) is higher than that of Alissa Czisny or Caroline Zhang, and the program component marks she received for her short at Junior Grand Prix Final were the highest among all of the junior ladies competing. Gilles also avoids wrong-edge deductions on her flip and lutz, which tend to plague the technical marks of other world-class skaters.
Cons: Gilles' youth and inexperience showed at the Junior Grand Prix Final, where Gilles singled her lutz in her long program and went on to under rotate her triple salchow. Both errors were especially costly because they were in combinations after the halfway point, which have the potential to be big point getters. Gilles has never competed as a senior before and her triple toe+triple toe combination has been an inconsistent one for her, having only completed it in two out of six skates thus far this season. Her component marks have been hovering around the mid-40s for the long, which are unlikely to be competitive in Cleveland, and received some level 1s and 2s on her non-jump elements at JGPF.
Outlook: Gilles has the content to do well in Cleveland, with a possible triple toe+triple toe (worth 8.0 points) in both programs, and a triple lutz+double toe(worth 8.03) and triple salchow+double toe+double loop(also worth 8.03) after the half-way point in the long. Though a podium finish seems unlikely, a top 10 finish is not at all a far-fetched placement for Gilles to end up, and even a top five finish is possible. A good performance here could get Gilles a coveted Grand Prix spot next year, which could make her an outside threat to go to Vancouver and/or become a future international contender from then on.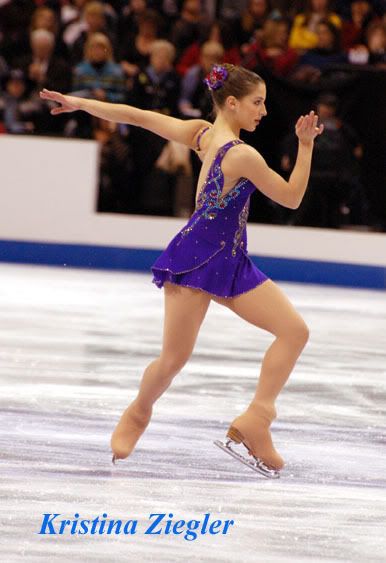 Katrina Hacker
Noteworthy Results: 2008 NHK Trophy-6th, 2008 Cup of China-8th, 2008 Four Continents Championships-6th, 2008 U.S. Figure Skating Championships-6th
Pros: Hacker burst out onto the scene last season when she surprised many by making the final group for the free skate at Nationals, where she finished 6th. Passed over by the selection committee to not go to Worlds instead of Kimmie Meissner, despite beating her at Nationals, Hacker went on to have the highest American finish at the Four Continents Championships, 6th, which would have also been the highest American finish at Worlds (taking her 4CCs score, she would have finished just ahead of Meissner who placed 7th). Hacker is noted for her elegant artistry, excellent flexibility, and musicality. Her unique short program to the music of "On Golden Pond" has been a fan-favorite this season and Katrina is generally a consistent skater.
Cons: During the Grand Prix series, Hacker had dropped her triple lutz from her jumping repertoire, and does not do a triple flip either. Her triple loop has also been inconsistent, falling on it during the free skate at Cup of China, and nearly falling on it during the free at NHK Trophy. She has had a total of six jumps downgraded thus far this season, including two double jumps. Her PCS marks have been lagging behind as well, averaging only 21.9 in the short and 44.38 in the long during her two Grand Prixs this season.
Outlook: A Golden Skate interview with Katrina back in June, "Hacker Can Hack It," mentioned she was practicing triple flips, triple toe+triple toe combinations, and even triple salchow+triple loops. However, it appears as though a back injury over the summer (bulging disk) has stalled those plans, as well as her growth spurt prior to the start of this season. There may not be much longer to put those elements on hold, however, because Katrina has stated she wishes to enroll at Princeton in the fall and has already deferred enrollment to compete this season. Unless if she were to pull an Emily Hughes and combine school and skating, and considering that Hacker's only realistic shot for a world/Olympic team came last season, this could indeed be Katrina's last competition. As for potential placements in this meet, a top 10 finish is definitely within reach, although a placement in the top 5 will be a tall order.
Emily Hughes
Noteworthy Results: 2008 Trophee Eric Bombard-9th, 2007 Skate Canada-4th, 2007 Skate America-4th, 2007 World Championships-9th, 2007 Four Continents Championships-2nd, 2007 U.S. Figure Skating Championships-2nd, 2006 World Championships-8th, 2006 Olympics-7th, 2006 U.S. Figure Skating Championships-3rd
Pros: Coming off of a hip injury, Emily has all of her jumps back minus the triple loop which she hasn't competed since the Olympics. Hughes is known for good height on her triples, excellent flexibility, and good spins. Hughes doesn't have any wrong-edge deductions for either her flip or lutz, and is one of the most experienced ladies skaters currently competing in the United States. Having not had a good season thus far, there will be little pressure for Hughes to do well in Cleveland.
Cons: From the start of the season, it looks like the Emily Hughes that has returned to competitive skating is an entirely different skater than the Emily Hughes that took silver at Nationals and Four Continents, placed top 10 at Worlds twice, and finished 7th at the Olympics after being called in at the last minute. After placing only third at Regionals, many felt that Hughes was clearly not in shape to represent the U.S. at Trophee Eric Bombard, and was only doing so to avoid going to sectionals and not finishing high enough to advance to Nationals. Hughes proved her doubters right, as she fell four times in Paris during her first international meet in over a year and received five downgrades throughout the course of the competition. Even the Emily Hughes from 2006/2007 would still be unlikely to be contending for a world team berth this year, without any triple+triple combination or a triple loop. Hughes' personal best free skate score, 111.26, is a little over four points lower than the TOTAL score Hughes received in Paris.
Outlook: Rachael Ray proclaimed on her show that Emily Hughes had to win two gold medals in Vancouver to one-up her sister. While such a scenario is less likely than North Korea becoming a democracy, Emily is going to be entering her 4th nationals on the senior level as quite the wild card because no one knows how much she will have improved by the time January 22nd rolls around. Hughes' chances for even a top 10 finish appear to be pretty invisible, and if Hughes isn't in the top 10 after the short she won't even be broadcast by NBC in the long. Emily is currently #70 on the seasons best list, and will have no chance to get a GP invite next season if she drops out of the top 75 unless if USFSA were to appoint her to Skate America, which surely won't happen. With a very poor season thus far that makes even Kimmie Meissner's season look decent, some are speculating that this could be Hughes' swan song. For those who think otherwise, Hughes does deserve to compete at Nationals, because she has represented the U.S. very well over the last few years in competition and she is not taking another skater's spot to go to Nationals. Facing several youngsters, it will be interesting to see if Hughes can pull herself together to skate decently and perhaps finish in the top 10. Unlikely, yes, but such a case should not be impossible.
Part 2 to come shortly. That is all.